What is Femilift Vaginal Rejuvenation?
There are several factors that can cause vaginal laxity and functional issues, including childbirth, menopause, and aging. Thankfully, at Cameron Wellness and Spa, we offer vaginal rejuvenation treatments to help correct symptoms caused by vaginal laxity. With Alma FemiLift technology, vaginal rejuvenation uses CO2 technology to strengthen the internal vagina to treat stress incontinence, sexual dysfunction, and vaginal dryness. During a FemiLift vaginal rejuvenation session, the production of collagen is stimulated by heating the inner vaginal tissue. It is a great noninvasive treatment to improve the cosmetic appearance of the vagina and address several different medical issues. To find out more about vaginal rejuvenation at Cameron Wellness and Spa, arrange an appointment with practice founder Dr. Todd Cameron in Salt Lake City, UT.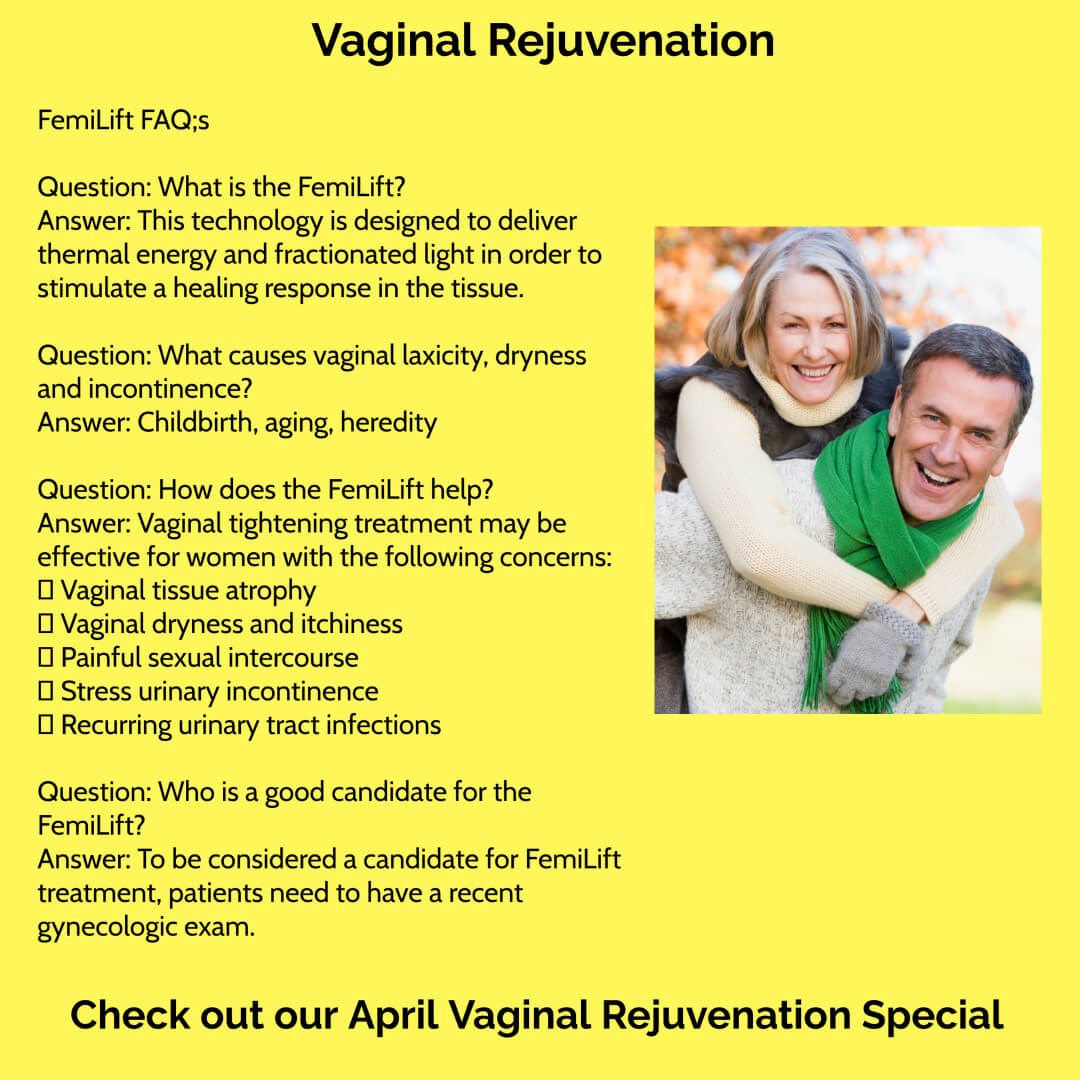 Check out our specials here
Reviews
"I've been going to Cameron Wellness for about five years now. It's difficult to find a doctor that I trust with my health and I certainly recommend Dr. Cameron."
- C.R. /
Google /
Jul 08, 2021
"Best Spa and Wellness Center!"
- S.K. /
Google /
Jul 30, 2021
"I love spending time with Dr. Cameron because he loves taking the time to talk to me and answer all of my questions, of which I always have plenty! I refer people to him constantly. He is a wealth of knowledge about the inner workings of the human body. I also love the far more natural approach and understanding of natural medicine that he possesses. Thank you for your excellent service and commitment to better health for me and your other patients."
- J.S. /
Google /
Apr 06, 2021
"Dr Postma is a caring, intuitive doctor. I highly recommend him to anyone looking to optimize their overall health and well being!"
- L.B. /
Google /
Jul 28, 2021
"Hands down the best holistic clinic in SLC! I have been seeing practitioners at this clinic for years and couldn't be happier. The staff are caring, friendly and very knowledgeable. They will give you the knowledge and tools to build and support a healthy immune system. Where typical western medicine has failed, Dr. Cameron's clinic has provided solutions that actually work without compromising my immune system. I highly recommend this cutting edge clinic!"
- H.A. /
Facebook /
Dec 17, 2020
Previous
Next
Frequently Asked Questions
Does FemiLift vaginal rejuvenation work?
FemiLift can enhance vaginal tightness. It can also help improve discomfort during sex due to vaginal atrophy and numerous other problems. Many individuals are electing to have this treatment thanks to its amazing results and nearly no required recovery time.
Does vaginal rejuvenation address loose skin?
Vaginal rejuvenation is advised for women who would like to have added tightness within the vaginal canal. Events such as childbirth, losing a massive amount of weight, or even advancing in age can strain the inner vagina and lead to laxity, which can be improved with Alma FemiLift. Individuals who are dealing with lax outer vaginal skin, like oversized or stretched outer folds, might be better suited for an aesthetic surgery such as labiaplasty.
Can I combine FemiLift with other procedures?
New moms and those who have lost excess weight usually blend vaginal rejuvenation, along with additional solutions to improve skin laxity and other issues that can happen from similar events. For example, some treatments like the mommy makeover may comprise a breast lift, vaginal tightening, and a tummy tuck for total-body rejuvenation. Labiaplasty and vaginal tightening are frequently done in combination as well to boost function while also enhancing the look of the labia.
How long is the recovery from vaginal rejuvenation?
During your consultation at Cameron Wellness and Spa, we will discuss how many sessions you may need to attain the ideal outcome. There is minimal discomfort or downtime associated with vaginal rejuvenation. You should be able to resume your day as normal right after your procedure. We recommend avoiding the use of tampons or engaging in sexual intercourse for several days after your session to allow the vaginal area the time it needs to properly heal.