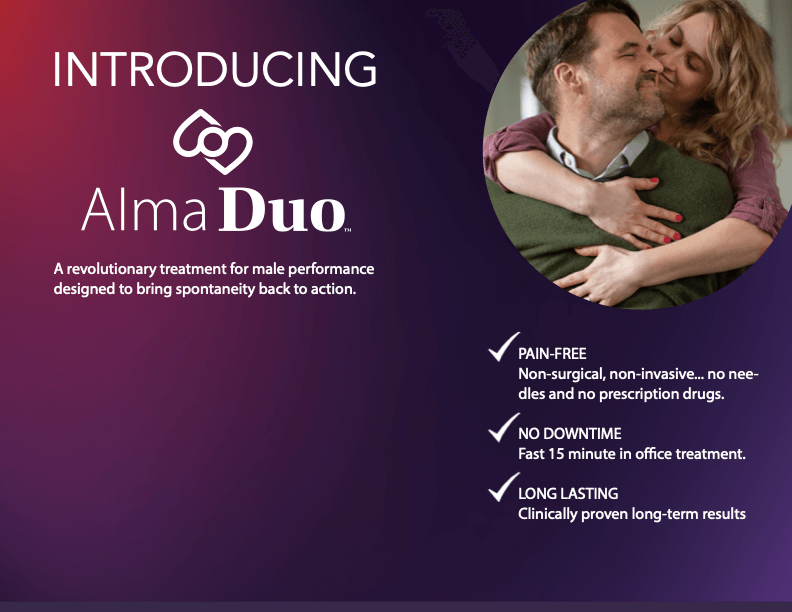 What is Men's Sexual Enhancement Therapy?
Although it may feel embarrassing to discuss for many, thousands of individuals in Salt Lake City, UT have sexual health complications, making these issues very typical. Penile shockwave therapy utilizing the Alma Duo™ device is an effective option that addresses men's sexual health. It's a noninvasive solution that emits sound energy to intensify the flow of blood to the penis via an approach known as low-intensity extracorporeal shockwave therapy. This men's sexual enhancement therapy is an incredible substitute for other solutions that require surgery, pills, or assistive equipment. To boost the lasting power of your erections, experience dramatic sensations, and enjoy more spontaneity in the bedroom, ask about sexual enhancement with Alma Duo™ at Cameron Wellness Center and Spa. Our team aims to help you improve your sexual health.
What are the benefits of Men's Sexual Enhancement therapy?
At Cameron Wellness and Spa, our men's sexual enhancement treatment offers benefits for men interested in improving their sexual health, including:
Non-surgical methods for increasing libido and sexual pleasure
Heightened length and strength of erections
Increased sensations when engaging in intercourse
Improved confidence in yourself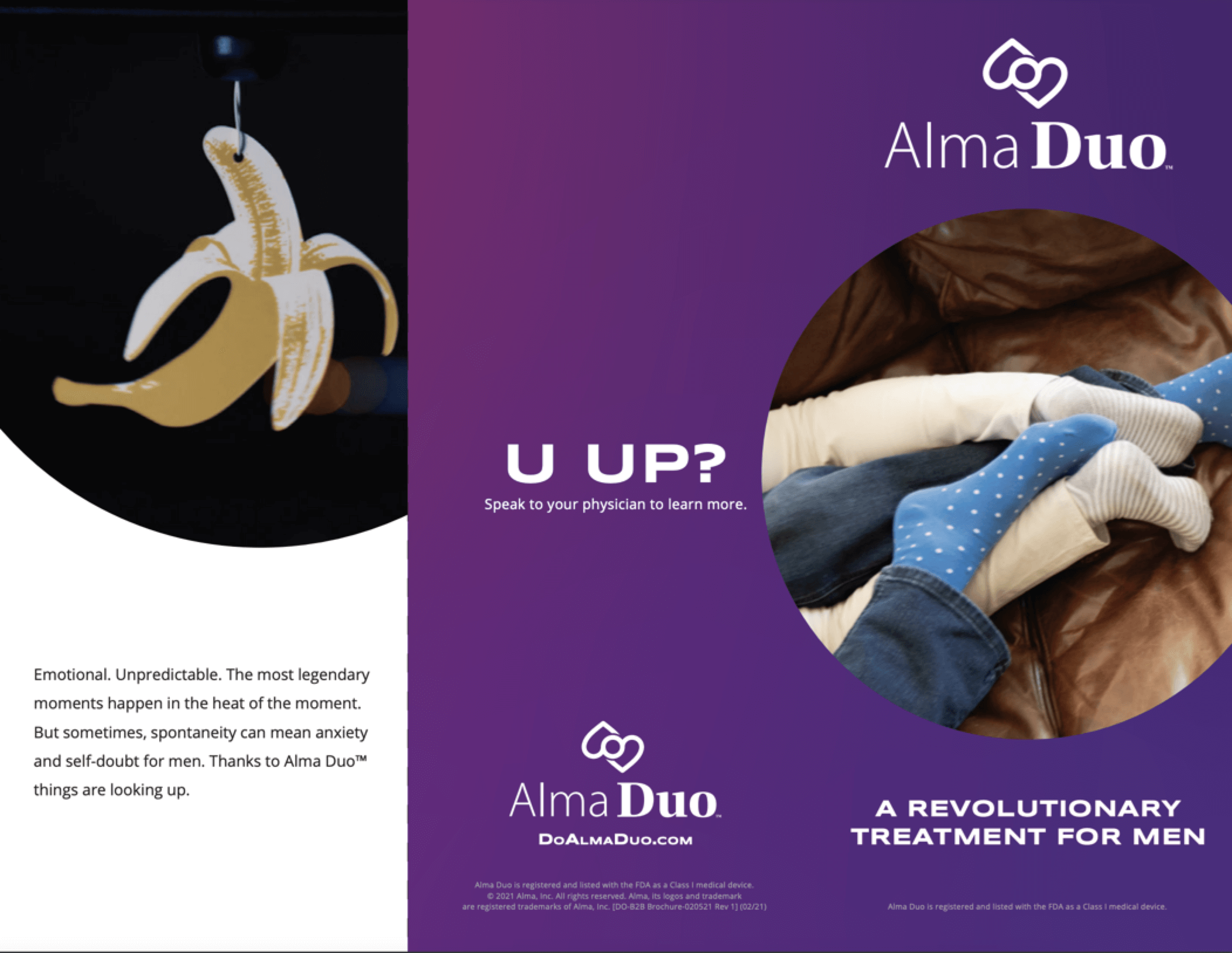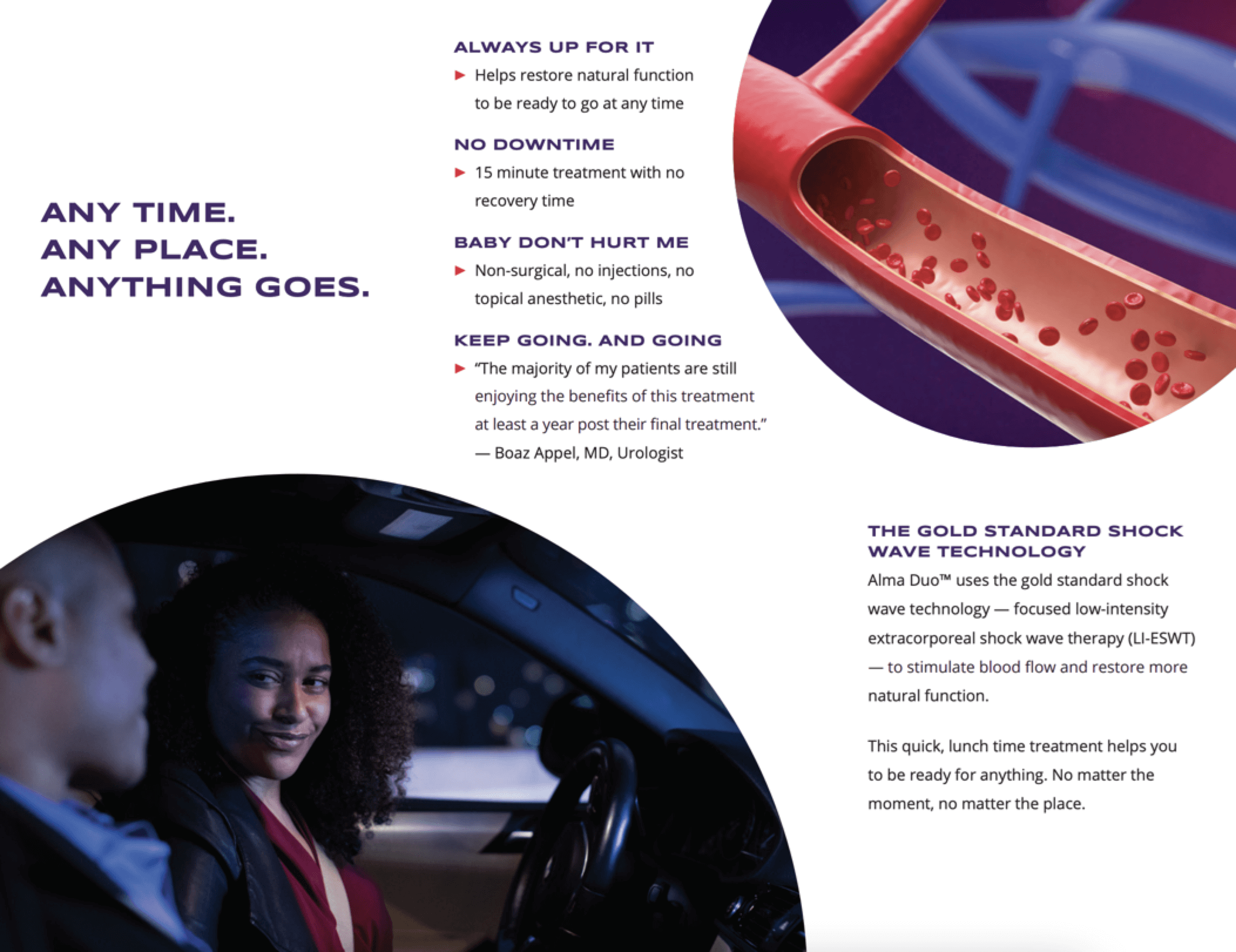 Reviews
"I've been going to Cameron Wellness for about five years now. It's difficult to find a doctor that I trust with my health and I certainly recommend Dr. Cameron."
- C.R. /
Google /
Jul 08, 2021
"Best Spa and Wellness Center!"
- S.K. /
Google /
Jul 30, 2021
"I love spending time with Dr. Cameron because he loves taking the time to talk to me and answer all of my questions, of which I always have plenty! I refer people to him constantly. He is a wealth of knowledge about the inner workings of the human body. I also love the far more natural approach and understanding of natural medicine that he possesses. Thank you for your excellent service and commitment to better health for me and your other patients."
- J.S. /
Google /
Apr 06, 2021
"Dr Postma is a caring, intuitive doctor. I highly recommend him to anyone looking to optimize their overall health and well being!"
- L.B. /
Google /
Jul 28, 2021
"Hands down the best holistic clinic in SLC! I have been seeing practitioners at this clinic for years and couldn't be happier. The staff are caring, friendly and very knowledgeable. They will give you the knowledge and tools to build and support a healthy immune system. Where typical western medicine has failed, Dr. Cameron's clinic has provided solutions that actually work without compromising my immune system. I highly recommend this cutting edge clinic!"
- H.A. /
Facebook /
Dec 17, 2020
Previous
Next
MEN'S SEXUAL ENHANCEMENT THERAPY FAQ
How is treatment with the Alma Duo done?
Penile shockwave treatment using the Alma Duo is an in-office treatment that takes about 30 minutes to do. The specialized Duo headpiece will be passed over the target region to encourage blood circulation. This wave treatment does not cause pain or comprise invasive techniques, making it a great midday procedure.
What is healing like following this sexual enhancement therapy with the Alma Duo?
Considering that the Duo by Alma does not need invasive techniques, prescriptions, or anesthesia, patients may continue their typical schedule after their procedure. No necessary recovery period makes this treatment a suitable option for patients struggling with erectile dysfunction.
How long will my results last?
The effects created by the Duo device are exceptional. Many men report that their outcomes last for at least a year. On average, we suggest a series of six procedures throughout one month to attain optimal results. Our team frequently arranges checkups twice each week for three weeks back-to-back.